– Vi vill vara med och ge migranter en röst gentemot beslutsfattare var de än finns i världen, säger Bilal Almobarak, samordnare för Support Group Network i
Göteborg. Därför är det naturligt för oss att samarbeta internationellt med andra organisationer och myndigheter.
Det har från början varit Support Group Networks ambition att arbeta för att asylsökande och migranter möts med respekt och värdighet och inkluderas i utformningen av sin egen framtid, inte bara i Sverige utan även internationellt.
Vid starten omkring 2015 bjöds Support Group Network in av Västra Götalandsregionen, VGR, till Bryssel för att berätta om verksamheten, och sedan av Vänersborgs kommun att vara med i WIR Project (Welcome and Integration Process for Refugees in Europe), ett EU-projekt som bland annat resulterat i en handbok för välkomnande och integration av flyktingar (Handbook for Welcome and Integration of Refugees in Euope)
Det gav möjlighet för Support Group Network att tillsammans med kommunen presentera sitt koncept för myndigheter och andra organisationer i övriga EU-länder. Ett annat exempel är projektet DEKOLLA (Developing migrants' knowledge about local labour market) i samarbete med Trollhättans kommun.
EU-samarbetet fortsatte, inte minst inom FIER (Fast track Integration in European Regions) med VGR som koordinator. Projektet syftar till att utveckla strategier och verktyg för att korta vägen till arbete för nyanlända.
Får starkare röst
– Vi vill arbeta internationellt för att stötta asylsökande och flyktingar, precis som andra stora organisationer som finns i flera länder runt om i världen, säger Bilal Almobarak. Med tillgång till större plattformar och kontaktytor kan vi ge migranter en ännu starkare röst. Utan kommuner, Högskolan Väst och civilsamhället, såväl organisationer som enskilda individer, som dörröppnare hade vi inte haft de här möjligheterna.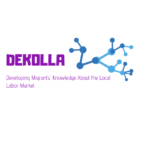 – Och alltså mellanrum som mellan alla andra stycken
– Och för att hjälpa våra lokala medlemmar och samarbetspartners i Sverige behöver vi lära mer genom erfarenhetsutbytet med andra länder. Genom att delta i EU-projekt ökar vi vår möjlighet att samverka ännu bättre här.
Support Group Network kommer att fortsätta längs EU-vägen. Flera ansökningar är på gång tillsammans med partners i andra länder. Just nu arbetar organisationen aktivt i tre projekt.
Social rörlighet och fredlig samexistens
Två projekt handlar om att öka möjligheten för unga personer som fått uppehållstillstånd att få tillgång till sociala rörlighet.
Moveeurope tar sikte på personer som inom utbildning, socialt arbete och organisationer arbetar med ungdomar som fått uppehållstillstånd. Målet är att utveckla verktygslådor som ska hjälpa personer i sådana yrken att stötta ungdomarnas sociala rörlighet.
(Y)our Europe?!  tar sikte på att skapa mötesplatser där nyanlända och inrikes födda kan träffas. Syftet är att stötta ungdomarnas eget arbete för fredlig samexistens i ett mångkulturellt samhälle.
Barn och barnfamiljer
Tillsammans med ett antal universitet och högskolor och bland annat Rädda Barnen och Röda Korset i Danmark deltar Support Group i REFUGE-ED (projektet har ännu ingen webbplats). Det är ett forskningsinriktat som ska kartlägga och utvärdera europeiska exempel på integration av flyktingars och migranters barn i officiella och icke-officiella utbildningssystem.
Bakgrunden är att omkring en tredjedel av de senaste årens migranter som kommit till Europa är barn. Barn och barnfamiljer möter en särskilt komplicerad psykosocial, ekonomisk och juridisk verklighet.
Ett antal pilotprojekt ska genomföras, bland annat i Sverige. Tanken är att projektet ska resultera i verktyg, lösningar och rekommendationer med utgångspunkt i de erfarenheter som pilotprojekten ger.
Möter stort intresse
Bilal Almobarak förklarar att Support Group Network såväl i Sverige som utomlands möter ett mycket stort intresse från organisationer och myndigheter för sitt arbete för inkludering och interkulturalitet.
– Vi har samlat erfarenheter som man vill ta del av. Det är inte ovanligt att man ber oss att komma för att berätta eller för att vara med och starta upp verksamhet.
– Just nu håller vi på med att utveckla en ansökan tillsammans med partners i Turkiet, vilket kommer vara vårt första samarbete utanför EU.
Idén att arbeta med utgångspunkt i migranters egen kapacitet är inte unik; i flera länder finns liknande ambitioner i civilsamhället. Det som internationellt sett är speciellt med Support Group Network är den snabba utbredning som konceptet fått. Den återspeglar ett unikt arbetssätt för att sprida verksamheten som nu återfinns dels i omkring 15 svenska städer där det finns flyktingförläggningar, dels i Norge och Tyskland.
Bo Silfverberg
---